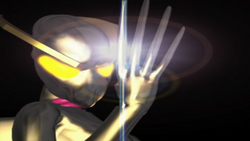 Quicksilver
is a humanoid woman from
Teknos
. She can fire orbs, deliver a slice attack, or use shield that can protect against any attack and reflect projectiles.
Base InformationEdit
"They abhor the flesh they can so readily display." - Quicksilver In-game Help Page.
Although most Quicksilvers are revolted by the softness and desires of their flesh, they must shift back to their human form at least 10 minutes each day. Though deeply repugnant to most Quicksilvers, there is a small, secret group within their Nation which advocates accepting and enjoying their dual nature. - The Observer
Community content is available under
CC-BY-SA
unless otherwise noted.