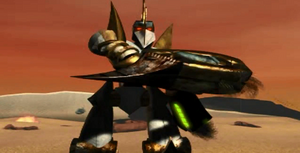 Razorfane are human brains from Teknos, that are encapsulated within mechanical bodies with circular saws and spikes. Razorfane can fire ripsaws, place bladewalls (saw-barriers) or spin on the spot for a close range attack.
Biography
Edit
To be expanded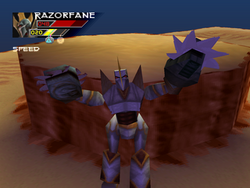 Base Information
Edit
"A legacy of pain and misery belongs to the Razorfanes... and they savor it." - Jaeger In-game Help Page
Health:
Energy:
Movement:
Map: Steel Hallway
Cost:
Square:
Triangle:
Circle:
X:
Strengths and WeaknessesEdit
Strong Vs: Prana Devil, Ecton
Weak Vs: Brontu, Fire Witch
Map Power: NukeEdit
Community content is available under
CC-BY-SA
unless otherwise noted.